A sale of a commercial real estate is a process as complex as any M&A transaction. Very often organized under high pressure of time, involving many people, it requires professional preparation to Due Diligence and further negotiations with potential buyers. Especially that any real estate's documentation made available in the course of a transaction is often much more extensive than documents relating to any other companies. Whether it is a sale of a single property, or execution of many transactions, the FORDATA solutions allow you to efficiently manage documents in these processes and improve communication with buyers.
FORDATA Virtual Data Room PRO to manage multiple sales transactions

FORDATA Virtual Data Room PRO is an innovative version of our system, which was created in response tthe needs of investment directors. It allows you tmanage multiple sales transaction simultaneously and independently. Within a single transaction it enables torganise Due Diligence in a professional and effective manner. Thanks tQ&A (Questions&Answers) module it increases effectiveness of negotiations  with multiple investors.
What are the results?
Increased efficiency of managing multiple projects
Lower costs of conducting a single transaction
Convenience, thanks taccess tall projects from a single Internet address
What are the additional possibilities?
Individual branding of the platform, sthat it looks like the company's internal system
Linking with the web site of the Real Estate Administrator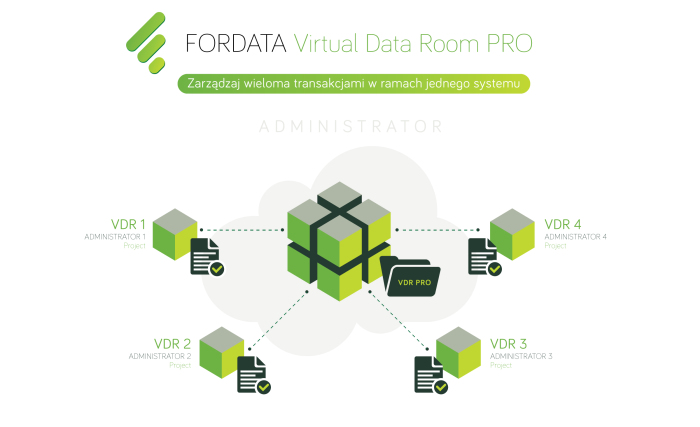 FORDATA Virtual Data Room to handle a single transaction
If you are preparing for a single transaction, consider our basic solution, the FORDATA Virtual Data Room. The service will allow you to organize Due Diligence in a safe and efficient manner.
What are the benefits?
Controlled and selective sharing of confidential information with Investors
Appropriate arrangement of the process, convenience
Reaching ta wider range of Investors and sharing of documents with all Investors at once
Shortening the time required tcomplete the transaction
Better understanding of the intentions of Investors, thanks tdetailed reports
The ability tfocus on running the business and negotiations, while FORDATA takes care of the organization of the process
For whom:
Administrators of Commercial Real Estate (Investment Directors)
Corporate Finance Advisers
Law Firms
Property Owners
Investors and their Advisers